Rhinoplasty San Francisco
At Union Square Facial Plastic Surgery in San Francisco, rhinoplasty surgery is one of the most popular procedures. Rhinoplasty is a procedure designed to improve the shape of a person's nose. It is one of the most powerful procedures in plastic surgery in that even subtle changes in a person's nose can significantly impact the overall look and balance of the face. Nose refinement can be performed on any part of the nose, to increase or decrease its size, to change the size and shape of the nostrils, tip, or bridge. The result can be subtle or dramatic. The surgery requires detailed planning, deliberate surgical technique, and focused experience. A fraction of a millimeter can make all the difference in rhinoplasty, and precision is of utmost importance.
Primary Rhinoplasty
When a person is undergoing rhinoplasty surgery for the first time, it is called a primary rhinoplasty. It is this first surgery on the nose that affords the patient the best opportunity for a positive and reliable outcome. Finding a rhinoplasty specialist in San Francisco to perform the surgery optimizes your chances of achieving an outstanding result the first time and reduces your chances of requiring a revision rhinoplasty in the future.
Revision Rhinoplasty
When a person has already had a rhinoplasty and is not satisfied with the appearance or breathing function of the nose, they may be a candidate for revision rhinoplasty. One year is conventionally advised following a previous rhinoplasty before proceeding with revision rhinoplasty. Many surgeons recommend that patients wait because the problem has not fully declared itself and typical postoperative swelling may obscure the final result for up to a year. However, in some cases, the problem is clearly recognizable much sooner than that, and waiting is not necessary. Each case is different and individual in-person assessment by someone specialized in rhinoplasty is necessary.
Ethnic Rhinoplasty
Dr. Chiu-Collins is highly experienced in rhinoplasty for patients of ethnic descent. In particular, she encourages her patients to desire the preservation of their natural and beautiful ethnic characteristics so that they still appear who they are. Often patients are looking for a slight improvement to just a certain part of the nose, and she helps them to achieve this.
Choosing Your Surgeon
When choosing your surgeon, look for someone who is a specialist. He or she should have expertise in the two major types of rhinoplasty:
1. for improving the cosmetic appearance of the nose
2. for improving functional nasal breathing
This level of training assures you that the greatest efforts will be taken to preserve or even improve your nasal breathing during the process of improving your aesthetic appearance.
At your rhinoplasty consultation, Dr. Chiu-Collins will spend an extensive amount of time getting to know you, and your goals of surgery. During that time she will personally obtain standardized photos of your nose and face and using computer imaging technology and your input, she will demonstrate various outcome simulations. This is one of the most important parts of rhinoplasty evaluation. It ensures clear communication between the patient and the surgeon in regard to the aesthetic goals and possibilities of the procedure. Once the goals of the procedure are established, she will then describe what is entailed in helping you to achieve them. She will review the preparation, surgical plan, recovery, and expected postoperative course with you so that you know what to expect during the course of this journey together. She reviews all of these points again another time before the actual surgery date. All your questions and concerns are addressed during the consultation and as they come up anytime before surgery.
Dr. Chiu-Collins' expertise is what makes her among the best to perform a rhinoplasty San Francisco residents can rely on. Dr. Chiu-Collins recognizes that every person is unique. Accordingly, she customizes rhinoplasty surgery so that your nose is reshaped to your realistic ideal – without changing you.
"
Best experience ever. Best doctor. Dr. Chiu-Collins has a great bedside manner and made me feel more comfortable than I could've asked for. Her work is superb. I had a rhinoplasty- she reshaped my nose and helped me breathe better.
– Shannon S., Irvine, CA
What can rhinoplasty do for me?
Rhinoplasty is an excellent procedure for achieving any of the following:
Reducing a bump (Dorsal hump removal)
Strengthening the bridge (Dorsal augmentation)
Straightening the nose
Improving nasal symmetry
Contouring a nasal tip that is too wide, bulbous, upturned, or drooping
Narrowing and reshaping the nostrils
Improving breathing
Minimum requirements
Completed facial growth. This typically means at least 16 years of age, however, exceptions are made for adolescents who have reached adult levels of growth.
Surgery
Rhinoplasty is usually an outpatient procedure at our surgical center performed under general anesthesia or IV sedation. Dr. Chiu-Collins performs either open or closed rhinoplasty. She selects the approach as is appropriate for the patient, and their goals and needs. The incisions are made on the inside of the nose, and in an open type of rhinoplasty, a small incision is made across the bottom of the nose. All of these incisions typically heal very well, often without a trace. Even a small incision across the bottom of the nose can be extremely difficult to find within a few months of surgery.
After the incisions are made, the soft tissue covering the nose is gently lifted. The underlying nasal architecture composed of cartilage, bone, and soft tissues is then sculpted into the desired shape. If additional cartilage is needed to help augment or reshape the nose, it will usually be taken from the nasal septum or behind the ear. Crooked nasal bones or a crooked septum would also be straightened here. Dr. Chiu-Collins has dedicated many years of her training and career to becoming intimately familiar with the nasal framework and support system. Even in a purely cosmetic rhinoplasty case, all efforts will be taken to preserve the breathing function of the nose. After the internal reshaping is complete, the soft tissue covering is redraped and stitched closed. Any narrowing or reshaping of the nostrils would be performed at this time.
The entire rhinoplasty procedure lasts between 1.5 and 4 hours depending on what needs to be done.
How Much Does a Rhinoplasty Cost in San Francisco?
The costs of the surgery can vary on a number of factors. As an experienced rhinoplasty San Francisco surgeon, Dr. Chiu-Collins will meet with you in her office to discuss all options and pricing and go over with you her recommendations.
Recovery from surgery
When the patient awakes from surgery, he or she will have in place a splint on the outside of the nose, and possibly a splint on the inside of the nose as well. The first 2 days are typically spent with the patient taking it easy at home. Bruising and swelling may last for several days and most patients return to work in one week. Soreness and swelling may be worse in the morning and are significantly reduced by sleeping with the head of the bed elevated on extra pillows. Pain relievers help with post-operative soreness. One week after surgery, the patient returns to the clinic for removal of the splints.
Is rhinoplasty covered by insurance?
Insurance may cover rhinoplasty if it is performed for medical or reconstructive reasons. It does not cover rhinoplasty for cosmetic improvement. Dr. Chiu-Collins can assess your nose, and help you find out if you are eligible for any insurance coverage.
Schedule A Consultation
Dr. Chiu-Collins is widely considered by her patients to offer the best nose surgery in San Francisco. Please contact us today to schedule your rhinoplasty consultation.
Related Blog Posts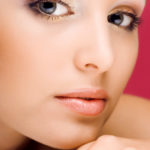 Rhinoplasty 101: The Anatomy of the Nose
What is Rhinoplasty? Rhinoplasty is a very prevalent form of plastic surgery that involves the reshaping of the nose by modifying the underlying… Read More